With a house system and a team of dedicated pastoral staff, our care ensures that every child feels safe, happy and ready to make the most of school life.
The pastoral care at St Peter's 8-13 is excellent. Each child in the school has their own mentor and we feel each teacher knows our daughter very well.
Daily Life
Daily life at St Peter's 8-13 is full of excitement and discovery. Alongside an inspiring curriculum, our pupils enjoy an exceptional range of co-curricular activities.
One of the great strengths of St Peter's 8-13 is that it is part of a 2-18 family of schools, and many pupils have siblings at St Peter's 2-8 or St Peter's 13-18. This sense of community is central to the pastoral support offered at St Peter's, and shapes the daily life of our school.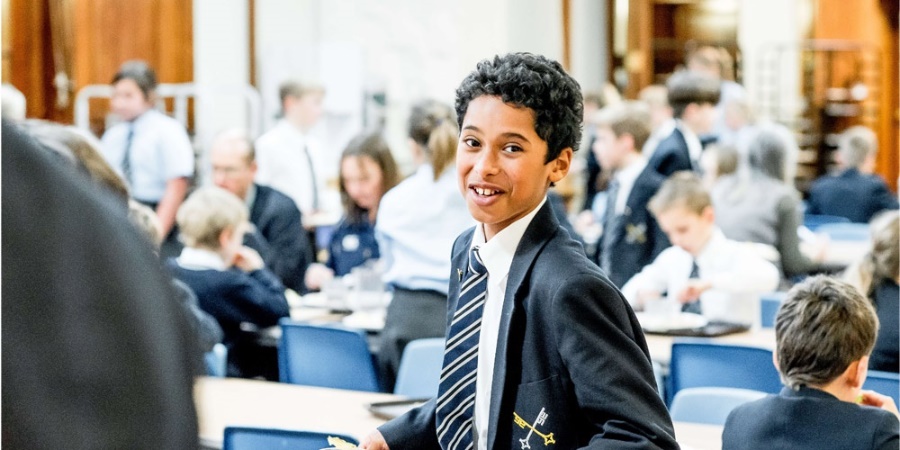 The days are divided as follows:
| Time | Period |
| --- | --- |
| 8.20am | Line-up, House Meeting and Registration |
| 8.30am | Either Form, House, Chapel or Assembly |
| 12.40pm | Lunch |
| 1.50pm | Roll Call |
| 2.00pm | Afternoon School |
| 4.00pm | End of teaching day |
| 4.10pm | Optional activities and supervised prep clubs |
| 5.20pm | Optional activities and supervised prep clubs ends |
On Games Afternoon (Tuesday for Years 4, 5 and 6 and Thursday for Years 7 and 8) some children will finish earlier than 4.00 pm and others later due to matches and extra practices.
On Saturday, school begins at 8.20am but ends at 12noon.
Our Boarders and Choristers have their own schedules before and after school.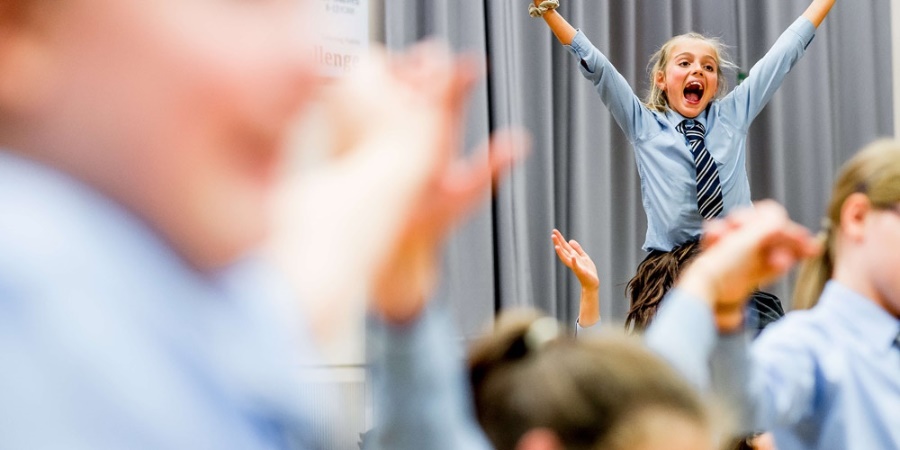 House System
There are five houses each with around 70 pupils across the age range in each. Our House and mentoring system, along with our 'Seven Values' framework, means your child's happiness and wellbeing is at the heart of what we do.
Our boarders in Wentworth House each belong to one of the five-day houses so there is a complete integration of boarding and day pupils in school activities.
Mindfulness and Wellbeing
To support the wellbeing of our pupils we follow the Mindfulness in Schools programme, which can help children flourish both inside and outside the classroom.
Our J4s have recently completed the Mindfulness in Schools course and are now able to deliver their own mindfulness sessions at the start and end of lessons.
---
Health Services
Our experienced school nurse, Mrs Falconer, provides full time cover during the normal school day between 8.00am and 4.00pm Monday to Friday and 8.00am - 12noon on Saturdays, looking after the health and wellbeing of our children. Outside of these hours, medical treatment is covered by the St Peter's Health Centre.
Mrs Falconer works closely with pupils, parents, and teachers offering a confidential link between home and school. She manages pupil medical conditions on a daily basis and deals with minor illness and injury. The medical area also provides a quiet area for those needing a place to rest for a few moments.
Mrs Falconer oversees the immunisation programme and the health screening for our J1 pupils, for eyesight, hearing, weight and height. She assists with the PSHE curriculum and acts as a point of contact on child protection issues when appropriate.
Parental Agreement for the School to Administer Medicine
---
Mental Health Team
Antonia Clarke is the Mental Health Lead with responsibility for our strategic whole-school approach to mental health and wellbeing, including promoting an open culture and positive mental health throughout school and will lead the mental health team which is one aspect of our mental health strategy. She has recently completed an MA in School Leadership of Mental Health and Wellbeing.
The Mental Health Team is coordinated by Jessie Emms and delivers one to one support for pupils with mental health needs. Jessie is a registered mental health nurse who worked in a specialist child and adolescent psychiatric inpatient unit before joining St Peter's.
Simon Gowland is our School Counsellor, qualified in psychotherapeutic counselling specialising in children and young people.
---
Focus on Food
As a school which has been awarded The National Healthy Schools Award, we seek to create good eating habits which contribute to a healthy lifestyle, whilst satisfying the needs of growing and active children.
Our kitchens cook as much as possible from scratch and we source as much produce as we can locally, thereby supporting local businesses and being cognisant of food miles. Some vegetables are grown in the school raised beds by pupils in the Gardening Club.
There is a Food Council, composed of staff and pupil representatives that meets regularly to discuss menus, selections and plan special themed events.
---
Chapel
We aim to give our pupils a positive experience in Chapel, whether a learning experience, a spiritual experience or greater moral awareness.
The setting of Chapel services is a traditional Church of England one but outside speakers of different faiths are also invited by the Chaplain, to introduce pupils to a variety of forms of worship and to emphasise the common humanity of all people and the moral ideals we should all share.
Many pupils are active members of the Chapel Choir and all pupils in our top year are expected to read or participate in some way in Chapel, an opportunity which is also available to our younger pupils.
We hold Chapel from 8.30 – 9.00am every Tuesday and Thursday, in the Chapel building which we share with St Peter's 13-18. The Chapel calendar for this term can be found here.
You can now view our beautiful Chapel in 360 using our Virtual Tour.
---
Learning Support
We can provide small group or individual support through the Learning Support Department. The department is housed in two specialist rooms supplied with current materials and ICT equipment. Department staff are qualified and experienced teachers of children with Special Educational Needs or those for whom English is not their first language. Plans for progress are prepared together with the class or subject teacher to ensure a cohesive strategy. Supportive parents are vital for progress to both take place and be maintained.
---
School Uniform
School uniform can be purchased online from our suppliers 'School Blazer'. Orders may be placed online or by telephone. All garments arrive fully name-tagged. Please allow six working days for goods to arrive.
Orders may be placed online or by telephone.
Nearly New Shop
The Nearly New Shop is run by parents on a voluntary basis and sells second-hand uniform in nearly new condition. It is located in the Junior Corridor at St Peter's 8-13.
Current items of uniform are donated to the school for purchasing items or funding projects.
The shop is open on Tuesdays 3.30 - 4.30pm, and Saturdays 8.15 - 9.15am
Uniform Lists
Full details for boys and girls/day and boarding can be found below.
Uniform Girl
Uniform Boy
Non Uniform Boarder