We want our pupils to leave St Peter's feeling happy, fulfilled and confident about the future.
The Higher Education and Careers Department provides information, advice and guidance to help pupils make choices and decisions that are right for them. The Department organises a programme of activities and events to support pupils in building employability skills, developing applications and making informed choices about their future.
We operate an open-door policy for pupils to 'drop in' to discuss any careers related issues. Individual advice and discussion is always available and is actively encouraged at key transition stages in Fifth Form and Lower Sixth.
Careers Department Pupil and Parent Handbook
Careers Department Programme 2021-2022
90% of Sixth Form pupils go straight on the further or higher education study 
73% of pupils gained places at Russell Group Universities in 2020
Our Higher Education and Careers Department is accredited by Career Mark
Destinations
Most pupils go straight on to further or higher education study upon leaving St Peter's, choosing establishments both in the UK and overseas. Our pupils go on to study a wide range of subjects, including medicine, mathematics, law, languages and the arts.
Each year a proportion of students choose to take a gap year before progressing to university, and a growing number also elect to go straight into employment. We have also seen an increase in pupils being accepted on to degree apprenticeship schemes.
---
University Applications
The transition from school to university is both exciting and daunting for pupils. We give our pupils access to a planned programme of activities that will enable them to make informed decisions about their future direction:
Pupil and parental briefings on the university application process both in the UK and overseas
Training and assistance on how to complete individual relevant applications;
Coaching and quality assurance for the development of personal statements;
Individual advice and support throughout the process, ensuring that each application is rigorously checked for quality with appropriate references being provided;
Centigrade Testing for Lower Sixth pupils, a personalised report of higher education course areas that may be of interest based on their skills and abilities;
Bespoke mock interviews tailored to individual interview requests;
Presentations and talks by university Admissions Tutors and representatives from professional bodies;
General information and advice for Oxbridge applications.
A growing number of pupils are considering A Level training schemes and direct entry to employment. The help for these pupils includes:
Advice and guidance on options that are available;
Training and assistance on how to complete individual relevant applications;
Bespoke mock interviews.
Though these are very competitive courses, the School has a proven track record of helping and supporting pupils in obtaining places.
---
Careers Support
Our Careers Programme supports pupils as they consider the different career options available to them. Our pupils benefit from the following resources and opportunities:
Support and advice for Work Experience placements, as well as access to a database of contacts available through NYBEP programme and the business community;
'Morrisby Testing' for Fourth Form pupils, including a three-hour comprehensive psychometric test which builds up a picture of their personal strengths, interests and abilities;
Individual guidance for Fifth Form pupils in the Christmas term of Fifth Form to discuss the results of their Morrisby Test as well as subject preferences and possible future careers;
Careers Library with books, journals and information on alternative progression routes such as apprenticeships and school leaver programmes;
Careers Database with contacts covering a range of careers, including Old Peterites, parents of current and past pupils, and local industry representatives;
Careers Convention for Fifth Form and Lower Sixth, with over 50 representatives from various professions are available to speak to pupils on a one-to-one basis;
Access to dedicated material tailored to their needs at critical stages of their academic journey available through our academic learning environment.
In addition, all pupils from Third Form onwards are provided with a comprehensive programme of age-appropriate material, delivered through PSHE lessons, talks, lectures, visits and opportunities both in and out of school including work experience placements.
Futures Fair
In the Easter term every year, the Careers Department hosts a Futures Fair, which introduces pupils to a wide variety of career and educational pathways. Pupils and parents from all schools across York are warmly invited to attend.
The Futures Fair is a fantastic opportunity to explore career options, speak to universities and industry professionals and learn more about future pathways. In 2020, we had over 50 exhibitors as well as 5 talks for pupils and parents to attend.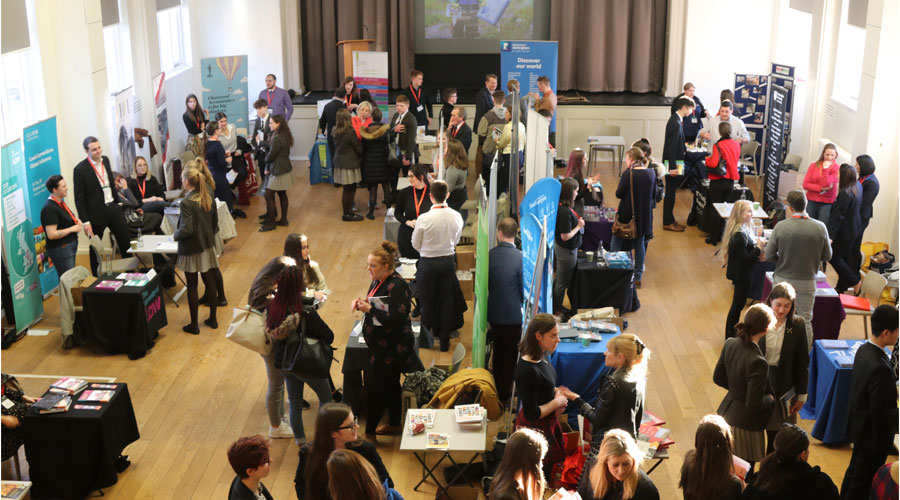 Gap Year Advice
For some pupils, a break from academic study before starting a university course is an attractive option. The majority of pupils who wish to pursue this option still apply to universities in their Upper Sixth year, but for 'deferred entry'.
Gap years can take many forms:
Organised activities with a specialist gap year company;
Work experience;
Independently organised travel.
Information, help and advice is available in a variety of formats in the Careers department. In addition, representatives from gap year organisations come into School to give presentations and also attend the annual Careers Convention.
---
Note for Parents and Employers
We are always looking for ways to improve the support we offer to our pupils in terms of learning and teaching, but also in terms of their development in a broader sense. If you feel you could help, either by offering a placement, helping to mentor a pupil, or would like to come into school to share industry knowledge or for an initial discussion, please e-mail the Careers Department at [email protected].
---
Policies
Our Careers Education and Guidance Policy, including our Careers Provider Access Policy, is available on our Policies page.
To find out more about Careers and Higher Education at St Peter's School, please contact Mrs Joy Loftus, Head of Careers and Education: