---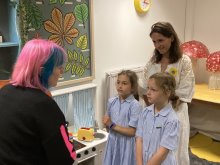 July 7th 2022
Sunflower Power - St Peter's 2-8 raise funds to welcome Ukrainian Refugees to York.
We are so proud of Kate in St Peter's 2-8 who showed compassion and entrepreneurship by selling sunflower seeds to raise money for the new Sunflowers Kids Club - a new nurturing space for Ukrainian refugee children and young people aged 0-17 to support their mental health and wellbeing.
The kids club which will support Ukrainian children with language skills, and help them to settle in York, welcomes its first visitors on July 13, after a recent launch. Ukrainian teachers and psychologists are part of the staff team after disrupted lives has led to disrupted education.
St Peter's School is supporting this worthy cause, by appealing to our community for donations for the club's wish list and offering school minibuses to take children on trips.
Staff members took three St Peters 2-8 student council pupils along for the launch. Kate – who thought of the sunflower idea - Hamish and Nina proudly presented the £93 they have so far raised from sunflower seed sales and were interviewed by local radio, to air this week.
Pupil Kate, 7, said: "I was planting sunflowers in my garden, and I thought it was a good idea to have a school competition as sunflowers are the symbol of Ukraine and face the sun and wobble."
Phil Hardy, Head Teacher of St Peter's 2-8, added: "This is an essential club providing a safe space for children and young people who may have experienced trauma, and have an uncertain future, and we are delighted to support it. Our pupils never fail to amaze me. I'm incredibly proud of Kate on the student council who thought of this lovely idea and raised funds so quickly."
Lina Henderson, Sunflowers Kids Club Founder, added: "We are so excited to open our doors to children and young people 0-17 who have faced such challenges and trauma, and often can't plan six months ahead. We will offer therapy but also practical skills like learning English quickly and cultural information like people in the UK have milk in their tea and it rains in summer. We are also a space for women who have had no choice but to leave their men behind, or are grieving, to support each other."
For more information and to donate please visit www.sunflowersinyork.org
---
---
You may also be interested in...